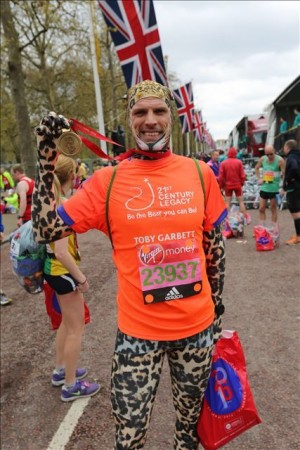 I am wishing everyone the best of luck in this week's 2017 Virgin Money London Marathon. Unfortunately my hopes of achieving a personal best and getting closer to the Guinness World Record time to be the fastest person in that animal costume will have to wait for another year.
I have come down with the flu and after trying to race a few years ago with a cold which subsequently meant contracting pneumonia, I don't want to make the same mistake again.
I am gutted having to make this decision, especially after all the training and racing I have done in recent months. I was also hoping to raise money for 21st Century Legacy Trust as I have done on previous occasions.
However, I would like to thank Charlie from Athlete Service, Stevie Oldfield for sports therapy, Martyn at f3 events, Bonza bike box, Deep heat & Deep freeze, Tim Prendergast, Vince Johnson and Olly bar for all their support.
I am already focusing on another race later in the season so watch this space……. I have also deferred my London marathon place until next year, so I may be down but I'm definitely not out!!
"A constant cycle of improvements and adaptation enables you to break through your physical limits and achieve your goals"
Olympian 2x World Champion Rower GB Age Group Triathlete, 
Personal trainer, Mentor & Speaker 07971089270 www.tobygarbett.com
Follow me on Twitter @tobygarbett